Inlets
---
Ray Dot Air Inlets

One piece single molded corrosion resistant material
Bi-Flo Inlet has two valves for dual directional air distribution, while Mono-Flo Inlet has one valve for one-way air distribution.
Quad Flo has four valves for 4-way directional air delivery.
Counter-weighted valve automatically closes when fan slows down.
Optional protective coating for inlet valve. (clad valve)
Insulated valve automatically opens as fan speed increases.
Hinged wall inlet door can be closed during cold winter periods or can be partially closed to direct air flow.
Optional fiberglass hood blocks wind.

1200 CFM
Ceiling Air Inlet
12-7/8" x 22 5/8"
RAYBF-1200
Ordering Information
2300 CFM
Ceiling Air inlet
16 ½" x 33 ¾"
RAYBF-2400
Ordering Information
600 CFM
Ceiling Air Inlet
6-1/8" x 22 5/8"
RAYMF-600
Ordering Information
1200 CFM Quad Flo
Ceiling Air Inlet
22-1/2" x 22-1/2"
RAYQF-1200
Ordering Information
Inlet Valve Only for BF 800
RAYZI2108
Ordering Information
Inlet Valve Only for BF 1200
RAYZI2112
Ordering Information
Double L
Top Jet Quad Ceiling Inlet

Top Jet TJ 4200 creates less draft and chilling.
All season, four directional inlet features counter balance
louvers that open from the TOP instead of bottom.
Directs air flow along the ceiling and holds air up longer while mixing with room air evenly.
Snap-together design! 11 lbs. each.
1812 CFMS @ .125 static pressure / 622 CFMS @ .05 static pressure

EEZ90640
Ordering Information

Double L
Jet 1501 Double Ceiling Air Inlet

Model JD1501 frame openings 21.5" x 18.5", 1300 CFM at .05 sp
Double inlet is recommended when recirculation is not necessary
A frictionless sytrofoam flap on a continuous PVC hinge swings down to access the main room to clean attic air.
Fully insulated to minimize condensation, dripping, or freezing.
Gravity or mechanical controlled

Jet Double Ceiling Air Inlet, JD 1501, 1300 CFM
EEZ90825
Ordering Information
Replacement Baffle for JD1501 Ceiling Air Inlet
EEZ90825L
Ordering Information
Rubber Stoppers for JD 1501 Ceiling Inlet
EEZ90825R
Ordering Information
Baffle Weight for JD1501 Ceiling Inlet
EEZ90825W
Ordering Information
Model JD 2600 Counterweight Ceiling Air Inlet, 2600 CFM
EEZ90841
Ordering Information
Double L
C2200 4-Way Ceiling Air Inlet
Releases 20% More Air than C2000

Double L's C2200 Ceiling Air Inlet delivers considerably more cfm than the old C2000.

Compare the performance of the C2200 Ceiling Inlet with 2,089 cfm at .125 SP to the old C2000 Inlet with 1,650 cfm at .125 SP. The extra cfm per inlet allows the customer to use fewer inlets per room, resulting in extra savings.

C2200 Ceiling Inlet operates automatically off of negative pressure supplied by exhaust fan.

Counterbalance louvers adjust automatically to static pressure.

Each inlet can be shut off for better air control.

C2200 4-WAY INLET
Approx. 2,089 cfm @ .125 SP

EEZ90635
Ordering Information

50% Faster Framing
with the Fast Frame

The Fast Frame consists of a plastic outside frame with a wooden inside frame that provides a clean, professional installation with no exposed lumber.

This frame accommodates the C2200, AC3010, GC1140, and TJ4200 inlets.

Overall Dimensions: 32" x 32"

Framed Opening: 22.5" x 22.5"

FAST FRAME
FOR C2200 4-WAY INLET

EEZ90620
Ordering Information
Double L Jet Ventilation
Fresh Air Wall Inlets
JWI Wall Air Inlets Excel in Extreme Cold Conditions

The JWI-1200 and JWI-2400 Inlets open wide when plenty of air is needed, flow adjusts automatically to protect animals during cooler periods.
Insulated hinged cover can be closed tight in cold temperatures or adjusted to any degree for proper air distribution.
Counterweight allows for fine control

JWI-1200 Wall Air Inlet
Framed Opening: 14" x 22"
Approx. 1,000 cfm @ .05 SP

JWI-2400 Wall Air Inlet
Framed Opening: 14" x 45.5"
Approx. 2,400 cfm @ .05 SP

Link to Product Video

EEZ90824
Ordering Information
Schaefer Fresh Air Wall Inlets

Rugged Polyethylene Housing
Exclusive air deflector doors for adjusting both air direction and velocity
Adjustable damper door with stainless steel spring
Protected from wind with weather hood with bird screen
2" mounting flange

Plastic Outside Wall Air Inlet
1000 CFM
11" tall x 22-1/8" wide
SCHWI-1000P
Ordering Information
Plastic Outside Wall Air Inlet
2000 CFM
18-1/2" tall x 22-1/4"
SCHWI-2000P
Ordering Information
PW Aire Air Intakes
PW Aire Air intake housings are built of lightweight, extremely durable poly-ethylene,
easy to clean, low maintenance products and will never succumb to corrosion

Features & Advantages:

Easy clean, low maintenance
Extremely durable foamed poly-ethylene (added R-value that fights condensation)
Corrosion free
Easy Fit & install
Maximize air flow
Low Profile
Pressure washable
Universal Twin Weight System
Durable sure lock ensures tight seal
Super Seal: Innovative Seals-rite system helps create a healthier enviroment by preventing leakage & cold air drops



Double Lid Air Intake (Actuated)
AI2400D


Challenger 1500 Air Inlet
AI1200DW

Item #
Model
Rough Opening
Directionial
Air/CFM
Function
Double Lid Air Intakes:
PWAAI1200D
AI1200D
16.25 x 22.25
Double
1200
Actuated
Ordering Information
PWAAI1200DW
AI1200DW
18.5 x 21.5
Double
1500
Weighted
Ordering Information
PWAAI2400D
AI2400D
19.75 x 32.25
Double
2400
Actuated
Ordering Information
PWAAI2600DW
AI2600DW
24.5 x 28.5
Double
2600
Weighted
Ordering Information
Osborne Auto-Max Wall & Ceiling Inlets

Auto-Max Inlets eliminate seasonal readjustment of weights and springs to keep incoming air speed constant.
Auto-Max Inlets are pre-calibrated and ready for installation.
Auto-Max 1000 CFM Wall Inlet constructed of all weather RTM-Glas fiberglass housing.
Auto-Max 1000 CFM Ceiling Inlet constructed of corrosion-resistant components.
Ceiling Inlets provide unobstructed 360º delivery of fresh air.

Auto-MAX Ceiling Inlets

Fully automatic baffle control operators
Unobstructed 360-degree radial airflow
Precalibrated and ready for installation
Corrosion-resistant components
Strong but lightweight housings
Frost-free structural foam for easy cleaning

Rough-in Dimensions:
20 1/4-in. x 20 1/4-in. or 17 1/4-in. diameter

Auto-Max Ceiling Inlet
1000 CFM
OSBFV-CI1500


Auto-MAX Wall Inlets

Fully automatic air delivery system
Precalibrated and ready for installation
Unobstructed exit airflow openings
Corrosion-resistant components
Durable all-weather RTM-Glas™ fiberglass housings
Housing design offsets wind pressure and excludes exterior moisture and condensation

Rough in Dimensions:
12 3/4-in. High x 22 1/2-in. Wide, Overall length: 26 3/4-in

Auto-Max Wall Inlet
1000 CFM
OSBFV-WI1500


Reliable Capacity at All Static Pressures — Even on Windy Days

Auto-MAX inlets always deliver their rated CFM capacity year-around both on still and windy days. Wind pressure effects on Auto-MAX are almost immeasurable because of the unique Auto-MAX design. University tests, using certified air testing methods, show that other leading air inlets rarely approach their rated capacity, even in still-air conditions and with continuous manual adjustment. With wind pressure or low winter-time static pressure, only Auto-MAX continues to perform totally automatically, according to its rating.

Real Full-Range Performance — Not Just A Rating
In university tests, the Auto-MAX inlet substantially outperformed all other inlets that were claimed to move comparable air volumes. Test data prove that the Auto-MAX inlet is the only inlet that automatically provides air velocities of 800-1000 FPM at all static pressures down to wintertime lows of .05 in.wg. This means that Auto-MAX inlets always provide exactly the right air volume and velocity throughout the year. Other inlets require seasonal and daily manual adjustment for minimum performance

Agri-Aide® Auto-MAX® Introduces
a New Standard for the Industry

Auto-MAX inlets totally eliminate seasonal readjustment of weights or springs. Factory calibration keeps incoming air speed nearly constant in the desired 800-1000 FPM range. This insures maximum ventilation efficiency and draft-free mixing of incoming air. No other inlet achieves this goal. Every Auto-MAX inlet becomes part of a balanced ventilation system. Auto-MAX inlets automatically stay balanced all year long. Every inlet admits the same volume of air for uniform air distribution. No frustrating trial-and-error balancing by "tweeking" counterweights or springs!
Plyco Ridge Vents & Louvers

Constructed of 29 or 26-gauge lock forming quality prepainted white and galvanized steel.
Optional damper for model PLYMWCRV904WS only
Painted white
1/2" galvanized hardware cloth
Aluminum rivets
9" throat

High Profile
Ridge Vent
13-1/4" H x 21 W x 4' L
9" Throat,
3000 CFM Air Intake
30# Weight
PLYMWCRV904WS
Ordering Information
Low Profile
Ridge Vent
13-1/4"H x 21 W x 10' L
9" Throat,
7500 CFM Air Intake
78# Weight
PLYMWCRV910
Ordering Information
High Profile
Ridge Vent
5-3/4" H x 9" W x 4' L
3-1/2" Throat,
1000 CFM Air Intake,
13# Weight
PLYMW40035
Ordering Information
Low Profile
Ridge Vent
5-3/4" H x 9" W x 10' L
3-1/2" Throat
2500 CFM Air Intake
32# Weight
PLYMW10035
Ordering Information

All steel construction pre-painted white
1/2" hardware cloth screen
1-1/2" nailing flange
Flush on back side to allow any location on building without framed opening
Louver blades provide full overlap

24" H X 18" W Louver
3000 CFM , 9 # Weight

PLYMWE-WL1824

Ordering Information
24" H X 24" W Louver
4000 CFM, 12# Weight
PLYMWE-WL2424
Ordering Information
30" H X 24" W Louver
5000 CFM, 15# Weight
PLYMWE-WL2430
Ordering Information
30" H X 30" W Louver
6250 CFM, 20# Weight
PLYMWE-WL3030
Ordering Information
Osborne Agri-Aide Roof Cupola

Available in metal or fiberglass (2 piece)
Functions as both fresh air inlet and natural ventilation outlet.
Designed to resist entry of snow and wind-blown rain
Constructed of durable RTM-Glas fiberglass to stand up to extreme temperatures and corrosive gases.
4' Long, 3000 CFM, 40 lbs.
Optional Damper

OSBFV-FC3000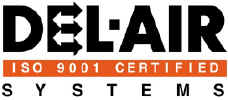 Due to Del-air going out of business no new items are available.
We still stock Del-air parts in inventory that are still available.
Note: This page is no longer being updated so some of the information above may be out of date. Please use these buttons to find current information.